Programs
Summer Camp
Creating outdoor experiences and memories that last a lifetime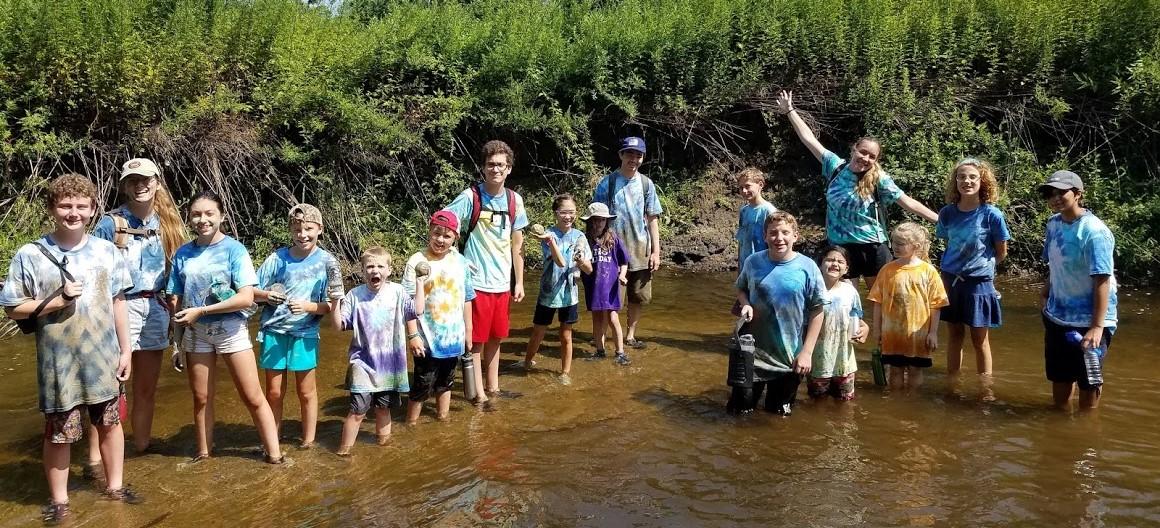 Audubon Summer Day Camp 2021
***UPDATE - Only a few spaces are still available for the weeks of August 9 and August 16. Register Today!***
Campers at Bent of the River's Audubon Summer Day Camp explore nature in a fun, safe environment within the 700 acres of our nature sanctuary. Audubon camp fosters curiosity through outdoor exploration that helps campers develop an understanding of the natural world. These unique experiences and adventures can grow into a lifelong appreciation for our environment.
Our camp days are filled with a variety of activities—including hiking, brook-walks, river exploration, crafts, nature-themed games, live animal interactions, and birding. For the safety of our campers, families, and staff, we strictly follow the latest COVID-19 safety guidelines.
Our staff is selected for their experience and skills working with youth in environmental education and for their interest in local ecology and natural history. All staff must pass background checks and are required to hold current CPR and First Aid certifications, making camp a safe place to learn about and experience nature. Our staff have helping hands each week from our Leaders in Training, experienced campers gaining skills in environmental education leadership.
Camp Age Groups: Camp groups are arranged by grade. Naturalists are campers entering grades 1 - 4 in Fall 2021 and EcoDiscoverers are campers entering grades 5 - 8. Volunteer Junior Counselor opportunities are available for teens ages 14 - 18. For more information on junior counselor opportunities, email bentoftheriver@audubon.org or call 203-405-9113.
Camp Hours & Length: Most camp sessions last one week, Monday – Friday from 9 a.m. to 4 p.m. *The Twilight Explorers week offered for EcoDiscoverers runs from 4 p.m. to 9 p.m.
Camp Registration: Registration opens March 15, 2021. Camp spots will be reserved only after registration is completed and tuition is received.
Pricing: Tuition is $350 per camper per week.
Cancellation and Refund Policy: Payment (minus 20%) will be refunded for cancellations received at least two weeks prior to the first day of camp to be attended. If Audubon must cancel a session, you will receive a full refund for that session only. No refunds will be given for cancellations made within two weeks of camp.
Audubon Summer Day Camp Perks: At the end of each camp session, parents and guardians are also invited to our Friday afternoon celebration at 3 p.m. Campers will meet parents and gather in our historic barn for a photo slideshow, craft, project displays, and stories from the week's adventures. Parents will also receive a link to pictures taken throughout the camp week. Your camper can use the pictures to talk more about all the fun things they did at nature camp.
Looking to gear up in Audubon style? Bent of the River Audubon Center Water Bottles and Hats are available with a $15.00 donation. Email bentoftheriver@audubon.org or call 203-405-9113 to arrange to pick up your gear when dropping off or picking up your camper.
2021 Audubon Summer Day Camp - Dates & Offerings
| | |
| --- | --- |
| July 12 - 16 | August 2 - 6 |
| July 19 - 23 | August 9 - 13 |
| July 26 -30 | August 16 - 20 |
Programs
Campers entering Grades 1 - 4, join us for up to 6 weeks of summer day camp fun. Learn about and enjoy different nature themes each week, including "Busy as Beavers" and "Nature Ninjas."
Programs
Campers entering Grades 5 - 8, join us for up to 6 weeks of summer camp fun. Learn about and enjoy different nature themes each week, including a week with twilight hikes.
Help make the world a better place
Learn & Explore
Where birds thrive, people prosper. Help us transform local communities into places where birds flourish. Learn what you can do to nurture wildlife, nature, and conservation in Connecticut.
Support Our Work
Through land stewardship, science, education, and advocacy, we work to preserve habitat and protect bird species that are of state, national, and global concern. Your gift can make a difference.
Join Our Family
When you become a member of Bent of the River Audubon Center, you are protecting an Important Bird Area and a natural heritage for generations to come. Help us do great things.