As part of the Audubon Connecticut state office of the National Audubon Society and Atlantic Flyway, Bent of the River is a recognized Important Bird Area and serves as a critical bird and wildlife habitat. Our science fieldwork and collaborative conservation projects not only help to protect local birds and habitats, but also provide a wealth of science-based data and results vital to the advancement of conservation efforts. By protecting birds, we're also safeguarding Connecticut's, as well as the Western Hemisphere's, great natural heritage for future generations, preserving our shared quality of life, and fostering a healthier environment for us all.
Making a Difference Through Habitat Management and Science
The 700-acre sustainably-managed habitat at Bent of the River is home to hundreds of wildlife species, including early successional birds of conservation concern such as Blue-winged Warblers, American Woodcock, Black-billed Cuckoo, Eastern Kingbird, Gray Catbird, Prairie Warbler, Eastern Towhee, Field Sparrow, Indigo Bunting, and Orchard Oriole. We focus on land management best practices on a rotational basis to maintain a permanent array of early successional habitats. This work represents one of the largest managed areas of this habitat type on protected land in Connecticut. Our stewardship efforts also include the management of the 111-acre Guilford Salt Meadows Audubon Sanctuary—a property along the tidal East River in Guilford, Connecticut that provides critical habitat for the Saltmarsh Sparrow (a species of global conservation concern).
Powered by our team of staff, volunteers, and local and state partners, our bird banding and habitat monitoring programs provide data and outcome reporting that is critical to the development of conservation strategies, best-practice modeling, and policy creation and enforcement at local, state, and national levels. Audubon offers many ways for the public to get involved in these local conservation efforts—from Community Science and land management volunteering to spreading the word and speaking out about important issues.
Bent of the River's JUNIOR FOREST TECHNICIAN PROGRAM, or JFT for short, also contributes to the impactful spectrum of habitat work happening at our sanctuary. This eight-week hands-on program allows five to ten local high school students to learn professional forestry skills and methods. The program, administered by Audubon staff, encourages students to gain career experience while contributing to the management and monitoring of local forests. The monitoring measures any change in forest composition over time due to climate change, invasive plant species, disease, or over-browsing. JFT program experiences include:
Training on habitat assessment and management best-practices and bird and vegetation identification
Forest and river plot studies at the Bent of the River to monitor, sample, and collect data for critical habitats—includes an electrofishing opportunity with the Connecticut Department of Energy and Environmental Protection Agency
Conservation site visits and reviews with forestry and conservation experts to see and better understand land management practices in action
Hands-on fieldwork to gain experience and knowledge about important issues like invasive plants and their remediation through removal and native plant installation as well as bird species behavior tracking through banding and nestbox monitoring
To learn more about conservation fieldwork or the Junior Forest Technician Program at Bent of the River, contact Glen Somogie by email or at 203-405-9114.
How you can help, right now
Lend a Hand
There are many great ways you can get involved with Bent of the River Audubon Center and make a difference for both the wildlife and the people who call Connecticut home.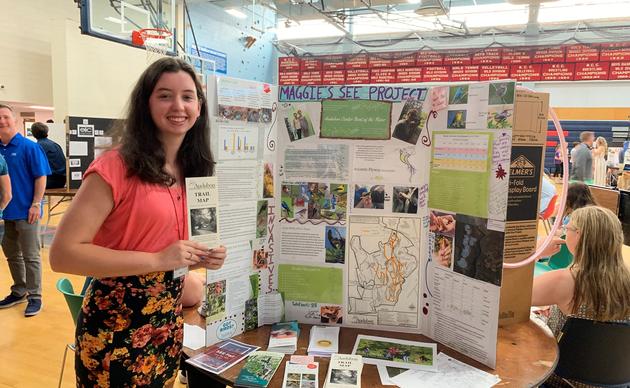 Become a Member
You are what hope looks like to a bird. Your membership helps secure the future for birds at risk from climate change, habitat loss, and other threats. Protect birds and you protect the Earth.
Support Our Work
Through land stewardship, science, education, and advocacy, we work to preserve habitat and protect bird species that are of state, national, and global concern. Your gift makes a difference.