Join a Bent of the River Audubon Center naturalist for a personal outdoor adventure at our nature sanctuary—or give one as the perfect gift! Our guided nature experiences offer fun themes to choose from. You may have up to 9 people attend your program session. Please expect to follow current U.S. Centers for Disease Control (CDC) and state COVID-19 guidelines at the time of your program. Each program is up to two hours and is a daytime event unless otherwise noted.
After booking your program, one of our naturalists will reach out to you (or your giftee) to discuss the date, time, and personalized program you are interested in doing.
Scroll further down below to view theme options and pricing.
For questions, please contact Kate Pratt at Kathleen.Pratt@audubon.org or 203-405-9113.
PLEASE NOTE: Private Adventure purchases are final and non-refundable. If you cannot attend the program for any reason, you can share your purchase with another guest. In the event of extreme, inclement weather, we will work with you to reschedule. By signing up for this program, you are consenting to receive emails from Audubon about this program and our conservation work. You may opt-out of our emails at any time.

A Word From the Trail
What a great experience our extended family had recently at the Bent of the River Audubon Center! We hadn't seen each other much lately so an afternoon outdoors among nature and birdsong seemed like the perfect way to be together while maintaining social distance—and it was. Ken, our guide for our private bird walk, was exceptional in his knowledge, enthusiasm, and humor in leading us around the grounds, which were spilling with the natural beauty of Connecticut. The path was easy for all of us aged 12 to 62. We saw hawks, bluebirds, warblers, and finches among native trees, shrubs, and flowers. Also, a praying mantis, which the kids thought was pretty cool. Just a wonderful afternoon. Highly recommend!
—Julianne, Choose Your Own Audubon Adventure participant

Exciting Adventure Options to Choose From
BIRD WALK (Any time of year) — Join us for a private bird walk through our sanctuary. The Bent's meadows, shrub-lands, and woodlands provide great habitat for migrating birds, such as Warblers, Vireos, Indigo Buntings, Thrushes, Orioles, and more. This walk will be customized to the participants in your party.
Suitable for ages 8 and up
Program Fee: $150
- - - - - - - - - - - - - - - - - - - - - - - - - - - - - - - - - -
NATURE HIKE (Any time of year) — Take a private hike with Bent of the River! Your personal guide will show you notable habitats and wildlife around the center trails. Nature is exciting and always changing, so you never know what we will find along the way! This program is ideal for people who want to enjoy beautiful scenery while hiking. We recommend this program for people comfortable hiking in areas with a slight incline for a portion of the experience.
Suitable for ages 6 and up
Program Fee: $150
- - - - - - - - - - - - - - - - - - - - - - - - - - - - - - - - - -
POMPERAUG RIVER EXPLORATION (June and July only) — Many fascinating creatures live in and around the Pomperaug River! During this recreational program, an Audubon naturalist will share the human and natural history of the river and teach you to catch animals such as crayfish, insect larvae, and small fish. The Bent will supply you with gear and materials to use during your experience (such as nets, containers, and field guides). Once the animals are caught, we will observe and identify the organisms and learn how they can help indicate the health of the river before we release them back to the wild.
Suitable for ages 8 and up
Program Fee: $150
- - - - - - - - - - - - - - - - - - - - - - - - - - - - - - - - - -
OWL PROWL (January and February only) — Enjoy a special guided adventure in search of one of the most beloved groups of birds—owls! We will be prowling for owls on a walk through meadows and forests in hopes of encountering one of the three owl species known to breed in Connecticut: the Great-horned Owl, Barred Owl, or Eastern Screech-Owl.
Evening event
Suitable for ages 10 and up
Program Fee: $225
- - - - - - - - - - - - - - - - - - - - - - - - - - - - - - - - - -
WOODCOCKS WALK (Late March and April only) — Join us for an opportunity to witness the amazing courtship dance of the American Woodcock at Bent of the River Audubon Center. Also known as "timberdoodle," the male woodcock flies to his singing grounds at sunset and gives a short, high-pitched insect-like single-note call, which he may repeat as many as 200 times in 5 minutes. Next, he flies in a low circle about 200 feet in diameter and then climbs higher and higher (the diameter of the circle decreases) until he is 200 to 300 feet in the air. His rapid wing beats create a musical sound as he climbs. At the apex of his flight, he sings a variable series of liquid notes.
Evening event
Suitable for ages 8 and up
Program Fee: $225
- - - - - - - - - - - - - - - - - - - - - - - - - - - - - - - - - -
PEEPER PROWL (March and April only) — Let's go on a vernal pool hike in search of fantastic amphibians at Bent of the River Audubon Center! These animals are active and breeding in early spring and can be viewed moving from one body of water to another. We will enjoy a symphony of wood frog and spring peeper songs and hopefully uncover a spotted salamander or two.
Evening event
Suitable for ages 8 and up
Program Fee: $200
- - - - - - - - - - - - - - - - - - - - - - - - - - - - - - - - - -
AFTERNOON VERNAL POOL STUDY (April, May, and beginning of June only) — Vernal pools are seasonal wetlands that contain water in the spring and are made from winter snowmelt and spring rains. The pools generally dry up by late summer. They are not home to populations of fish but are valuable breeding grounds for species like frogs, salamanders, and other invertebrates. You and your party will use telescoping nets to search for invertebrates in the vernal pool sediment. Two-way magnifiers and identification guides will enable you to identify the animals. Materials will be supplied to you by the Bent of the River.
Suitable for ages 8 and up
Program Fee: $150
- - - - - - - - - - - - - - - - - - - - - - - - - - - - - - - - - -
FIREFLY NIGHT (Select Dates in Late June only) — Enjoy the magical display of fireflies—nature's own fireworks—on a private stroll through the Bent's meadows.
Evening event
Suitable for ages 8 and up
Program Fee: $200
Lend a Hand
There are many great ways you can get involved with Bent of the River Audubon Center and make a difference for both the wildlife and the people who call Connecticut home.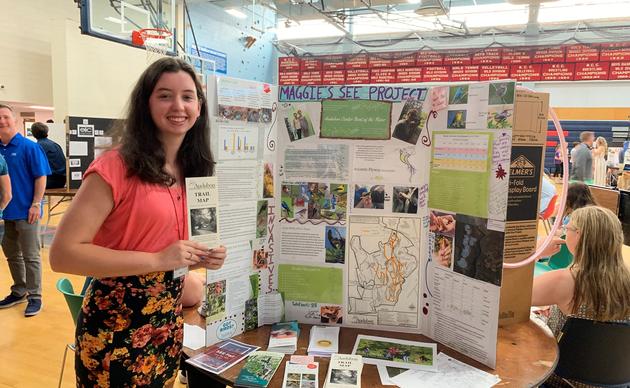 Become a Member
You are what hope looks like to a bird. Your membership helps secure the future for birds at risk from climate change, habitat loss, and other threats. Protect birds and you protect the Earth.
Support Our Work
Through land stewardship, science, education, and advocacy, we work to preserve habitat and protect bird species that are of state, national, and global concern. Your gift makes a difference.